Welcome to Ragnolds
Ragnolds kennel is based in southern Hampshire at
Eyersdown Farm
. Our association with the Hungarian Wirehaired Vizsla (HWV) started in 1994 when we bought our foundation bitch LANSPAR KONNYU SZEL (Breeze) from Gill and Terry Pearson. Breeze had a good career: including best of breed at the Bath Championship Show and was an excellent working dog. We were then 'hooked' on this great breed.

To this intent we began to breed for the dual purposes of showing and working. Our main aim is to produce healthy dogs with good temperament and who are suitable for either working, showing or as good companions and life-long friends. To this end we only breed from dogs with good hip scores and with clear eye certificates.

To improve our breeding program we have imported new bloodlines from both Holland and Hungary, the first of these were QUODIAN'S ZANTHOS (Chaucer) and QUODIAN'S ZELDA (Sola) in 1997 - pictured below.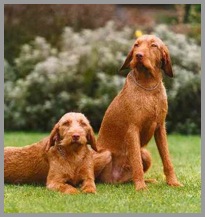 © Southern Daily Echo

These were followed two years later by QUODIAN'S CHOPIN and QUODIAN'S CSINOS, and then closely followed by QUODIAN'S YELES. Later imported additions were GYARMAT ERDEI CSAUSZ, CIKOLAI PANDUR and ZOLDMALI AVAR.




NEWS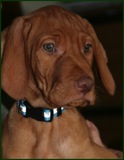 2/8/19 - Rare opportunity for stud... click for more

2/11/18 - Stunning litter of Ragnolds HWV... click for more

18/9/18 - Rarely available Ragnolds HWV... click for more

19/4/2016 - Arrival Spring Litter... click for more

27/9/2015 - Home Required... click for more

26/9/2015 - Rare Ragnolds Norfolk Terriers... click for more

25/9/2015 - An autumn litter... click for more

16/3/2015 - First Litter of the Year! ... click for more

20/9/2013 - Breaking News - Beautiful Puppies ... click for more

23/2/2013 - 2 Gorgeous HWV Girls ... click for more

December 2012 - Norfolk Terrier Puppy For Sale... click for more

22/11/12 - Rain's litter all sold ... click for more

13/6/12 - Spring has finally sprung! Puppy News ... click for more

23/5/12 - Gorgeous Ragnolds Shih Tzu ... click for more

2/2/12 - Male HWV for re-homing ... click for more

13/1/12 - Gorgeous Ragnolds Shih Tzu puppy for sale ... click for more

5/1/12 - FOR SALE - Only two gorgeous puppies remaining - ready now ... click for more

2/11/11 - Safe arrival of 7 puppies ... click for more

13/10/11 - NOW SOLD - Puppy Unexpectedly Available ... click for more

9/10/11 - They're Growing ... click for more

4/8/11 - 'Summer' Wire Puppies for Sale... click for more

7/4/11 - Smooth Vizsla Puppies for Sale... click for more

2/4/11 - Shih Tzu Puppies for Sale... click for more

5/10/10 - Puppy Availability... click for more

18/7/10 - Two Very Proud Mums... click for more

8/7/10 - Puppy Availability... click for more

2/1/10 - Ragnolds Norfolk Terriers... click for more

22/12/09 - Tango's puppies going ... click for more

30/11/09 - THANK YOU ... click for more

29/11/09 - House Fire at Eyersdown Farm ... click for more

5/11/09 - Puppies - Breaking News ... click for more

12/10/09 - Tango in whelp ... click for more

27/7/09 - Puppy Availability ... click for more



CLICK HERE to view archived News




For further information please contact us.

Click HERE for Map